Caption the Political Photo: Stephen Harper meets with China's propaganda chief
Welcome to a new installment of Caption the Political Photo.
This picture from the Prime Minister's Office shows Stephen Harper meeting with Chinese Communist Party official Li Changchun, known as China's propaganda chief, on April 19. We weren't there, but we suspect they were exchanging tips on how to best deal with "foreign radicals".
Here's how Caption the Political Photo works. If you were Harper and/or Li, what would you be saying in this picture? Tell us in the comments section below, on our Facebook page, or on our Pinterest board.
We'll repost the photo tomorrow (April 20) using our favourite submission.
Update (April 20): And we have a winner. Thanks to Stefan Shipmaker on Facebook.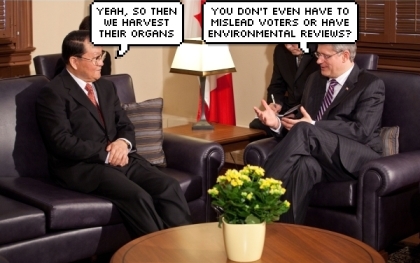 You can follow Stephen Hui on Twitter, Facebook, and Pinterest.