Five best vegan eats from Vancouver's food trucks
Over the past few years, Vancouver has developed a lively and diverse street-food scene. But, for vegans, it's still slim pickings.
Amongst the city's food trucks, there's a smattering of worthy animal-friendly options (free of meat, fish, dairy, eggs, and honey). Here's five bright spots.
(All photos by Stephen Hui)
1. Crispy Chick'n burger at Loving Hut Express
Price: $8.
Taste test: Everything's mouthwateringly delicious at Vancouver's first fully vegan food cart. But the Crispy Chick'n burger is a particular favourite. Made with a deep-fried Gardein patty, eggless chipotle mayo, guacamole, jalapeno relish, tomato, red onion, and lettuce, this is way better than anything at KFC. It's also extremely filling and greasy, so come with an empty stomach. Loving Hut Express also makes a mean BBQ onion ring cheese burger. It's like ordering a Whopper and onion rings at Burger King and sticking the onion rings inside. Did I mention you can order a side of onions rings to go with that onion ring burger? Fast food at its finest.
In a word: Heaven.
Location: Pacific Boulevard and Davie Street.
Links: Website, Facebook, Twitter.
2. Roasted yam and black bean tacos at Off the Wagon
Price: $6.25 for two, $9.25 for three.
Taste test: Off the Wagon's menu is free of dairy and gluten, but not meat. This food trailer garnishes its small soft corn tacos with roasted tomato salsa, guacamole, onion, and cilantro. Its vegan option, the roasted yam and black bean tacos, hits the mark with its fresh taste. Squeeze that lime on it.
In a word: Refreshing.
Location: Dunsmuir Street and Burrard Street.
3. Vanburger Veggie burger at the Kaboom Box
Price: $7.14.
Taste test: The Vanburger Veggie is vegetarian by default, so order the vegan version and they'll leave off the sauce. What's left is the basics: the patty, lettuce, and bun. That's okay, because the patty—made with mushrooms, oats, brown rice, pumpkin seeds, sunflower seeds, nutritional yeast, onions, and garlic—is the star here. Nicely charred, it just might be the best veggie patty in town. Just add ketchup and go.
In a word: Crispy.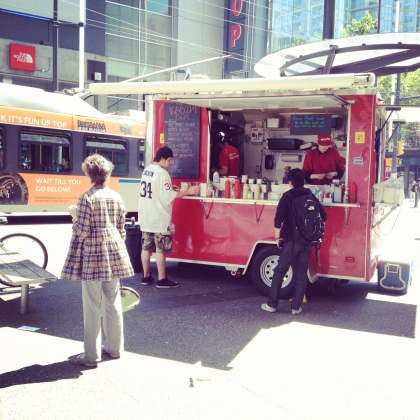 Location: Granville Street and Robson Street.
Links: Website, Facebook, Twitter.
4. Vegan burrito at Tacofino Blue Burrito Truck
Price: $8.
Taste test: It's difficult to finish Tacofino's vegan burrito unless you're super hungry. But it's worth trying. Packed in a flour tortilla are refried black beans, basmati rice, guacamole, salsa fresca, and shredded cabbage. All the huge burrito could use is a little Daiya dairy-free cheese.
In a word: Stuffed.
Location: Burrard Street and Dunsmuir Street.
Links: Website, Facebook, Twitter.
5. Blueberry matcha smoothie at the Juice Truck
Price: $7.50.
Taste test: Time to wash down all that street food with the Juice Truck's all-vegan menu of juices and smoothies. The blueberry matcha smoothie incorporates banana, cacao nibs, cinnamon, almond milk, and agave, and has a nutty flavour. More adventurous foodies can try the avocado pineapple smoothie.
In a word: Fruity.
Location: Abbott Street and Water Street.
Links: Website, Facebook, Twitter.
Vancouver's food trucks often deviate from their posted business hours—closing up shop early, staying home on rainy days, and moving around on weekends. It's maddening to show up hungry only to find an empty street corner, so check that food cart's Twitter and Facebook feeds before you visit.
You can follow Stephen Hui on Twitter, Facebook, and Pinterest.