Liberals claim Conservative candidate Wai Young's campaign Photoshopped picture of Stephen Harper
The Liberals and Conservatives are fighting an intense battle in Vancouver South.
In the 2008 federal election, Liberal Ujjal Dosanjh beat Conservative Wai Young by a mere 20 votes to remain the riding's MP.
That's why the Liberals are trotting out Paul Martin for a couple of campaign events in Vancouver South this weekend.
On Sunday (April 17), the former prime minister will help kick-off a "doorknocking blitz" at Dosanjh's campaign office and headline an "exclusive evening campaign celebration" at Fraserview Hall.
No doubt, Young will be in attendance this afternoon (April 16) when her leader, Stephen Harper, holds a campaign rally in Burnaby.
(Vancouver's StopWar coalition plans to hold its own anti-Harper protest outside the rally at 3030 Gilmore Diversion.)
In this battle of inches, the Liberals are today making hay out of what they say is a Photoshopped picture of Young and Harper.
A Liberal news release, titled "More doctored Conservative documents", states:
Conservative Candidate for Vancouver South Wai Young photo-shopped a picture of her and Stephen Harper for a promotional calendar"¦ by taking out the President of China!

According to Ms. Young's campaign Facebook site the original photo was taken during a state dinner for Hu Jintao held in Ottawa on June 23, 2010.

Conservatives are making a bad habit of doctoring documents. Remember when Bev Oda inserted the "not"? Well this time, they removed Hu Jintao – the President of the most populous nation on earth.
It's not exactly the scandal of the century, but in a close fight, it'll do.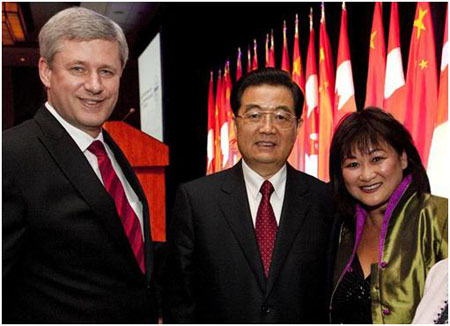 The Liberals say the original photo included Hu Jintao, president of the People's Republic of China.
You can follow Stephen Hui on Twitter at twitter.com/stephenhui.
Federal election 2011