Major renovations to transform Vancouver's Great White Urinal for Nordstrom
Like many of the aesthetic missteps of the '70s, the architecture of the former Eaton's building at Granville and Georgia is one that many would prefer not to think about, let alone see. It's been called everything from an architectural disaster and one of the city's worst eyesores to the Great White Urinal. (Ouch.)
Accordingly, visual critics have reason to rejoice.
Pacific Centre mall owner Cadillac Fairview has announced that the building, which currently houses Sears (slated to leave its premises by October 31), is set to undergo a dramatic renovation for its incarnation into a Nordstrom location, which is expected to open in 2015.
The new design will be by renowned local architect James K. M. Cheng, best known for his work on Vancouver buildings such as the Shangri-La, the Shaw Tower, and the Fairmont Pacific Rim. His condo tower designs also contributed to the development of the architectural style known as Vancouverism.
The current Sears building was originally built to house Eaton's flagship department store in 1973 as part of Pacific Centre. (Before Eaton's, the York Hotel existed at that location.) It was designed by Argentine American architect César Pelli, best known for the Petronas Towers in Kuala Lumpur, Malaysia.
The much-reviled Eaton's design lacked windows, making the structure insular and uninviting to pedestrians. (The blank walls served as a screen for images to be projected upon during the 2010 Winter Olympics.)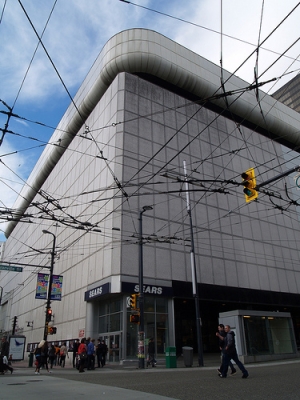 However, the new Cheng design will visually open up the structure by replacing the white-tiled walls with glass window walls. The boxy structure will also be divided into two layers, creating additional visual interest.
Some of the design characteristics are reminiscent of the old Vancouver Public Library location at Burrard and Robson (before its renovations for HMV).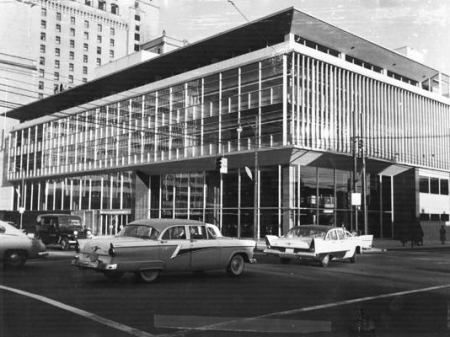 Nordstrom will occupy three floors of the building while the upper four floors will be converted into office space. The lower mall level will become multi-tenant retail space.
Construction will take approximately two years to complete.
You can follow Craig Takeuchi on Twitter at twitter.com/cinecraig.