Bikes, craft beer, and indie spirit thrive in Portland's West End
Over a flight of craft beer at McMenamins Crystal Ballroom, it became clear that my tour guide, Sarah Goforth, is a lot like Portland. Meaning that she's just a little bit weird—but wonderfully so.
We were at the last stop of a three-hour Pedal Bike Tours cycle around downtown that focuses on the city's craft breweries. A third-generation Portlander, Goforth is an avid cyclist and an early member of the Portland Sprockettes, a quirky bicycle dance troupe. Until then, she had just talked about beer and bikes. But when the conversation turned to evening plans, she revealed that she would be performing at a club down the street as part of an ensemble show. She'd morph into her alter ego, GiGi Malibu, and dance to the beat of MC Hammer.
"We call it Hammercise," she said of the performance art that she created. She explained that it's synchronized aerobics inspired by '80s and '90s music and fashion: think Jazzercise, Spandex, Salt-N-Pepa, and Suzanne Somers's ThighMaster, with a bit of Richard Simmons thrown in. In other words, exercise "with ridiculousness to it".
Bicycle culture, fabulous craft beer, and creative self-expression—these are all things that make Portland such a fun place to visit. The city is well known for embracing weirdness—witness the Keep Portland Weird slogan. But there seems to be no limit to the indie spirit that drives the arts and culture scene, not to mention the food and drink.
A new mural on the wall of the building where Pedal Bike Tours is located at 133 SW 2nd Avenue. Carolyn Ali photo.
During our ride, Goforth shared her enthusiasm for cycling in Portland. At six to eight percent, the city has a higher proportion of bike commuters than anywhere else in the U.S. In May, Bicycling magazine called Portland "America's Best Bike City". Goforth pointed out the on-street bicycle parking corrals, which occupy several parking spots. They were introduced after a 2008 pilot project, and there are now 85 of them. "At first, businesses were upset," she said of when the spots were converted, but now many stores recognize that they bring in customers, and there's a waiting list to have them installed.
Bike corrals outside of the Ace Hotel in Portland's West End. Carolyn Ali photo.
Downtown Portland is blessedly flat, so cycling between breweries was easy—and there are plenty to choose from. According to Goforth, the city boasts 49 independent breweries. Many are bike-friendly: at one Lucky Labrador Brewing Company location, we rolled our bikes straight in the door and parked them at a rack next to the bar. (The brewery is holding a long-distance bike beer crawl, the Tour de Lab, on September 9.)
At McMenamins Crystal Ballroom, we had a chance to chat with one of the brewers, Alex McGaw, who gave his perspective on the city's brews. "The ingredients are so fresh—that's why Oregon is one of the best suppliers of beer," he said. McGaw explained that he uses local raspberries, and that hops can be picked straight off the vine and delivered to the brewery the same day.
While McMenamins has 24 breweries in Oregon and Washington, the Crystal Ballroom is unique. Goforth took us up for a peek at the grand live-entertainment venue above the brewery, a beautiful, storied space that dates back to 1914, where we were let loose for a jump on its bouncy "floating" floor.
The Crystal Ballroom is located in Portland's West End, an area that has revitalized itself over the past five or so years. McMenamins is part of this makeover, having opened the Crystal Hotel across the street from the Crystal Ballroom last year. Located between the downtown retail core and Powell's City of Books at the edge of the Pearl District, the West End isn't large, but it packs a punch in terms of indie creativity.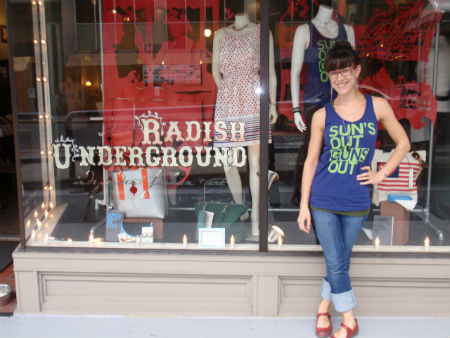 Gina Morris of Radish Underground. Carolyn Ali photo.
I explored the area on foot. At Radish Underground, a boutique specializing in one-of-a-kind clothing and jewellery featuring Northwest designers, I chatted with the shop's co-owner, Gina Morris. She told me that the area used to be full of empty buildings that had fallen by the wayside, but since the hipster Ace Hotel opened in 2007, a new generation of independent businesses has followed.
"There's a real calling for artists here," she said, noting that the Portland Institute for Contemporary Art has moved its offices and galleries here from the Pearl District. "It's a really vibrant, active place to be."
Indeed, an eye for design pervades West End businesses. Tanner Goods, a shop that handcrafts its own leather belts, has a fun urban- lumberjack aesthetic. Gold + Arrow, with its warm wood interiors and crocheted hangings, must be one of the loveliest hair salons anywhere. The old-fashioned photo booth in the Ace Hotel's lobby is pure fun, and the walls of its adjoining restaurant, Clyde Common, are covered in pages from a vintage cookbook.
The West End is also a good base for exploring other neighbourhoods, including the Pearl District. That's where we dined at one of Portland's newest restaurants, called Riffle NW, which focuses on seafood. The whole roasted branzino (Mediterranean sea bass) was delectable, but what came after we finished the fish was even better: the server whisked the carcass to the kitchen, where it was deep-fried and sent back to our table. We poked out the firm cheeks and munched on the bones, which were so delightfully crisp they shattered like pretzels.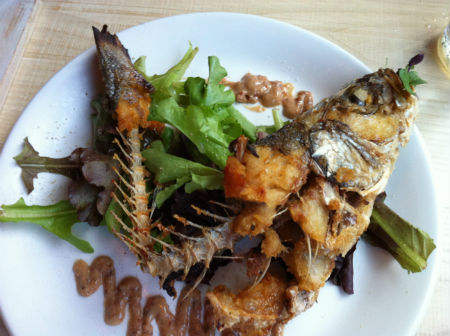 After the fish is gone, the bones at Riffle NW are served with a bacon aioli. Carolyn Ali photo.
Dishes like this put Portland high on the list of getaways for food lovers. Of course, there are also the legendary food trucks. I enjoyed the day's special of a dark, rich wild-mushroom goulash at the Tabor Czech truck. And at the Saturday farmers market at Portland State University, I took on the "Reggie" from Pine State Biscuits' stand. I was a bit wary of ordering a biscuit sandwich stuffed with fried chicken, bacon, and Cheddar cheese, all topped with sausage gravy for breakfast. But it was so perfectly crafted that it wasn't the least bit heavy or greasy—just absolutely delicious.
Pine State Biscuits make a fantastic breakfast at Portland's farmers market at Portland State University. Carolyn Ali photo.
With all this good food and beer, I wondered if Portlanders cycle simply to work it all off. But cycling seems to be a distinct way of life, as a pile of mini-bikes strung around a pylon outside the McMenamins Crystal Hotel hints.
Goforth explained that this is a piece of functional public art called the Zoobomb Pyle. Previously, a gaggle of bikes was stored haphazardly in the area as loaners for people who met for a weekly ride to the Oregon Zoo. In 2009, the city organized them into a sculpture, which is now disassembled every Sunday for the ride.
When I asked Goforth to pose for a photo with the Pyle, she climbed right up on it, twirled around, and then stopped—Hammer time—striking a pose.
Like Portland, she puts a unique spin on everything.
Access: The writer toured Portland as a guest of Travel Portland and travelled as a guest of Amtrak Cascades (see here for the scenery on the journey). For city tourist info, see Travel Portland; for info on Oregon, see Travel Oregon. Those who want to take the train down with their own bike should book early to secure one of the six bike-rack spots per train; see Amtrak; for details and here for photos of the scenic ride. Pedal Bike Tours rents bikes and offers a variety of guided tours. See West End Portland for more info on that neighbourhood. The Time-Based Art Festival, organized by the Portland Institute for Contemporary Art, takes place from September 6 to 16. Feast Portland, a festival featuring big-name American celebrity chefs, happens September 20 to 23.
Follow Carolyn Ali on Twitter at twitter.com/carolynali
.