Hiking, bear-viewing, and Wanderlust yoga festival stretch out summer in Whistler
Heading into the final weeks of summer, there's still time for a Vitamin D getaway. Don't let the artificial deadline of Labour Day stop you: September is an excellent month for a weekend jaunt, since the weather is often warm and the crowd of vacationers has thinned.
It's a gorgeous time of year to soak up the rays at Whistler Blackcomb, where the hiking and sightseeing trails and bike park remain open until Thanksgiving (October 8). Right now, the alpine wildflowers are in bloom.
Arthur De Jong, mountain planning and environmental resource manager for Whistler Blackcomb, says that fall is his favourite time of year for a hike. "It's the autumn colours combined with the cool, crisp alpine air," he says in a phone interview with the Georgia Straight. "The snow is at its furthest melt, so you can…scramble up peaks easily."
Now through mid-September is prime bear-viewing season, and this year should be especially good. De Jong explains that July and early August had the perfect combination of sun and precipitation, so the mountain berries that grow down the mountain from the trail system (not on it) will be very lush. "Where you find bear food, you find bears," he says. "On your way up, on the lifts, there's lots of opportunities for bear viewing." Those especially interested can sign up for one of the mountains' bear-viewing tours.
If you're out for some exercise, De Jong says, there are trails for people of all ages and abilities. For example, the new Spearhead Walk debuted in early August at the top of Whistler Mountain, and it's an easy 1.2-kilometre amble for families through a meadow with views of Garibaldi Provincial Park.
But while the walks offer some alpine scenery, according to De Jong, "the further out you go, the more you're rewarded." That's because both Whistler and Blackcomb provide an entry point into Garibaldi Provincial Park, which is "where the gems are found". On Blackcomb Mountain, the complete 3.5-kilometre Decker Loop is "magnificent because of its high elevation and vistas", says De Jong. "The Blackcomb side is considered a better trail system because of its gentleness.…The progression [of trails from easy to difficult] is perfect. It allows people to make decisions while they're out there." So if they're getting tired, they can turn back.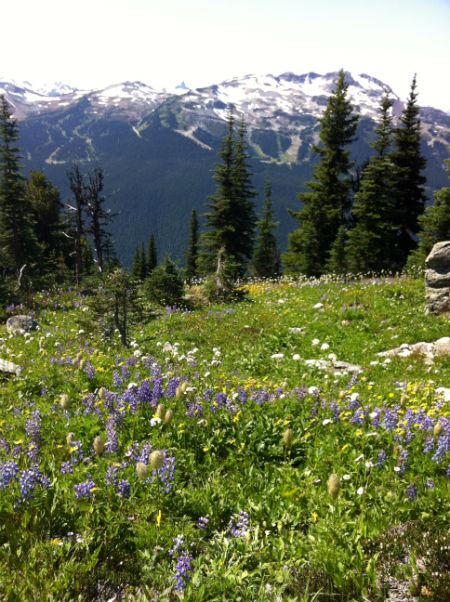 Summer alpine flowers on Blackcomb's Lakeside Loop trail. Carolyn Ali photo.
I didn't have time for the Decker Loop on my recent visit, but I thoroughly enjoyed the shorter, 2.2-kilometre Lakeside Loop on Blackcomb. The hike took us about two hours with many photo stops along the way, because the views were so arresting. We packed a lunch to eat at Blackcomb Lake—which is more like a large pond in August, but still pretty. The mix of snowy, grassy, and treed patches on the mountains across the valley offered a camouflage pattern of whites, browns, and greens. The panoramas included a slope covered in summer wildflowers (where I expected Heidi to skip past), dramatic views of the Tantalus mountains, and a look down on the Peak 2 Peak gondola that connects Whistler and Blackcomb across the valley, its red cars as small as ladybugs from this vantage point.
A sightseeing-hiking lift ticket includes unlimited rides on the Peak 2 Peak and all the operating chairlifts, so plan your day carefully to fit it all in. On Whistler, a short walk from the Roundhouse Lodge, the open-air Peak Express Chair is a must-do for its spectacular views of the valley. The lift takes you up to the 2,182-metre summit, where you can get a clear look at Black Tusk Mountain and pose with the iconic inukshuk.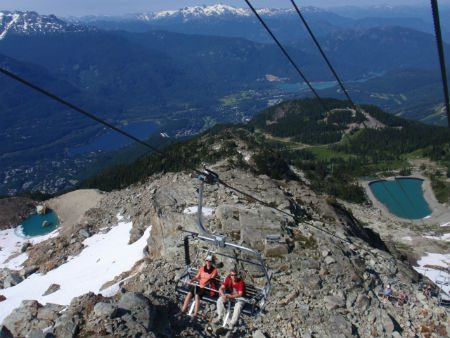 The Peak Express gondola to the summit of Whistler Mountain offers outstanding open-air views. Carolyn Ali photo.
If you prefer, you don't even need to walk the trails to enjoy the scenery. The patio at the Roundhouse Lodge offers casual barbecue buffet dinners with valley vistas, Fridays through Sundays until September 2, plus September 8. The dinner/lift-ticket combos are a good deal at $60.05 per adult (a regular adult lift ticket is $45.95), so if you want to hike as well as kick back, you can go up early and stay all day.
Weekend barbecues on the patio at Whistler Mountain's Roundhouse Lodge aren't the least bit strenuous. Carolyn Ali photo.
Or you could just enjoy the mountains from the perspective of Whistler Village. If you're up for a last-minute trip, there's plenty of action there from Thursday to Sunday (August 23 to 26), when the Wanderlust festival rolls into town for the first time. The yoga-focused event—which also takes place in California, Vermont, and Colorado—is bringing in Baron Baptiste (the founder of Baptiste Power Vinyasa Yoga), yoga teacher Sianna Sherman, and other teachers and guest speakers.
Tickets for one, three, or four days of the festival are available, which include three scheduled activities per day (such as morning meditation hikes, yoga, and lectures), plus evening entertainment. Concerts by Michael Franti, Krishna Das, the Rebirth Brass Band, and others in Whistler Olympic Plaza are free to the public, as is the Friday (August 24) 7 p.m. community yoga class at the same location.
If you're in Whistler this Sunday, or any Sunday through October 8, be sure to wander through the Whistler Farmers Market. Located in the upper village, this is a great place to buy breakfast or picnic goodies. Fresh air does work up an appetite.
Access: For info on Whistler Blackcomb hiking trails, the Peak 2 Peak gondola, and bear-viewing tours, see the Whistler Blackcomb website. Alpine hiking trails are open daily until September 23 and then weekends only until October 8. Gondola hours vary, closing as early as 5 p.m.; be sure to check in advance. For village and general info, see Tourism Whistler. See the Wanderlust website for Wanderlust schedules and tickets. The writer toured as a guest of Whistler Blackcomb and stayed at the Fairmont Chateau Whistler, located at the base of Blackcomb.