Near Vernon, Silver Star Nordic classes teach adults to get back to nature
At Silver Star Mountain Resort's boot camp, urbanites learn to ski, breathe, fall—and play
When I finally hit my groove on the trail, I understand the attraction. No longer concentrating on technique, it's all just gliding along the parallel tracks carved into the snow. That's when I start to really take in the forests of Douglas fir trees rising on either side.
When we reach a clearing looking out over the Monashee mountain range, we pause. The sun bounces off the pristine snow, and all around there is nothing but…silence.
Joy rises from under three layers of high-tech fabric.
Now I get it. This is what my instructor, Guy Paulsen, was getting at earlier over breakfast. Born to Scandinavian parents, Paulsen has been Nordic skiing since he was three years old. He loves it so much that he eventually gave up his initial career as a draftsperson to instruct, and is now Silver Star Mountain Resort's Nordic manager. When I asked what he loves about it, he answered without hesitation: "It's the freedom. I can breathe a little deeper. There's something about the wind in your face when you're outdoors."
I'm a city person, and my apartment windows remain tightly shut throughout the winter. The view from my living room—a row of houses backed by six swaying trees that do their best to obscure the high-rise behind them—stands in for nature.
Clearly, that hasn't been cutting it.
"Urban dwellers may enjoy all the benefits of the city, but deep down they need to get out there," into nature and the open air, Paulsen asserted. It's a hard-wired impulse that "thousands of years of DNA" makes difficult to tamp down.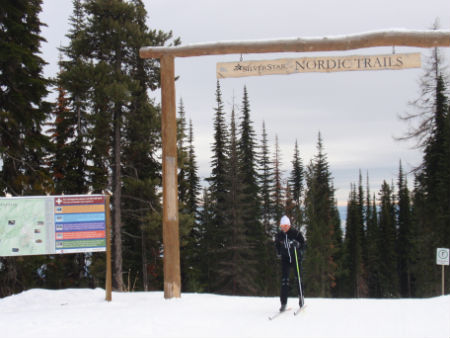 Silver Star's Nordic trails keep Guy Paulsen in the great outdoors. Carolyn Ali photo.
At Silver Star, there's plenty of outdoor exploring to do. Just northeast of Vernon, this resort is known for its Nordic skiing. With over 50 kilometres of groomed trails that form a 105-kilometre network with the Sovereign Lake Nordic Centre, there is ample opportunity to be one with the trees.
I'm at the resort to sample its Nordic boot camps, two-day programs aimed at women that combine city comforts (martinis and massages, anyone?) with Nordic coaching. The camps are open to all levels from experts down to beginners like me, who aren't even sure what Nordic means.
"Nordic is defined by the fact that your heel moves up and down," Paulsen explains. The genre includes telemark skiing (a downhill style that emphasizes deep turns), snowshoeing, and cross-country skiing. For the latter, that means that the toe of your boot is clamped to a ski, but the back is free, unlike on a downhill ski where it's clamped in.
There are two types of cross-country skiing: classic ski and skate ski. Each uses a different technique and equipment. I start off with classic, in which you place your skis into defined tracks and use a diagonal stride, arms opposite your legs, to propel yourself across the snow. The two-and-a-half hour lesson began gently, with basic drills involving gliding on one ski, turning, and the all-important skill of stopping. Then our group splits up by skill levels, and off we go further afield.
They don't call this boot camp for nothing: cross-country skiing is a workout. By the end of the session, I'm getting the hang of it, but my muscles are relieved that it's lunchtime. We follow tracks back into the village and ski clear through the resort's main pedestrian drag, which looks like what you'd get if you took the set of a tumbleweed Western, painted all the buildings bright pastel colours, and then dumped on 20 feet of snow.
The village is more laid-back than Whistler, with quirky architecture. Carolyn Ail photo.
Silver Star prides itself on its ski-in, ski-out Nordic trails, and my hotel, the Snowbird Lodge, is steps away from this hub of rental shops and restaurants. To call it a village is an overstatement if your idea of a village has the name Whistler in it. Silver Star is exponentially smaller, with a low-key, family-friendly vibe rather than dressy restaurants and rocking nightlife. Some might see the early 1900s mining town theme as twee—there's an odd, incongruently Victorian Full House kind of influence going on with the condos, too—but I found it charmingly colourful.
In the afternoon, we head out for a guided snowshoe and then, mercifully, a deep stretch class. "Send some gratitude to your hips for helping you out today," breathes yoga instructor Claudia Sorensen. With my legs twisted on the mat, my hip flexors revel in the love.
The great thing about spending a day outdoors and pushing your physical limits is that you can feel good about battening down at night. After some seared scallops and a New York strip loin at the Silver Grill Steak and Chop House that would do Whistler proud, it's time to retire.
The following day, I awake to another glorious sunrise over brilliant snow. Sucking in the fresh air, I walk over to the rental office to be fitted for a new activity: skate skiing. Unlike the classic style, there are no defined tracks to follow; you simply push off freestyle as if you were ice skating, shifting your balance from one foot to the other.
After years of figure-skating lessons, I thought this would be easy. But I quickly find skate skiing more challenging to learn than the classical style. That's because it relies more on balance, and I'm afraid of veering out of control on these unfamiliar sticks. While the terrain is relatively flat, I hesitate to transfer my weight from ski to ski for fear of toppling sideways.
Fear is something Paulsen tries to quell in his classes. "Fear is based on having a need for certainty," he explains to me later: "knowing you'll be successful, knowing you'll be okay, knowing you will have a good time." That's why classes start on such easy terrain in the village before hitting the wide-open spaces. Adults, Paulsen notes, take learning snow sports much more seriously than kids do. "A lot of adults forget how to play," he laments, despite the fact that they're really on holiday just to have a good time on the snow. Once they relax a bit, however, they get "a step closer to play".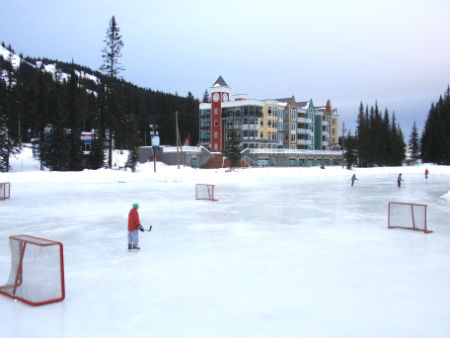 Hockey players and figure skaters share Brewer's Pond. Carolyn Ali photo.
Just when I'm feeling more stable, he breaks us into groups and we venture further. Today, I'm led by Andi Fancy, an instructor who hails from New Zealand. We ski off and end up at a circuit that leads around the hectare-wide Brewer's Pond. The beautiful free-form frozen water is groomed for skating, and several figure skaters and hockey players bandy about.
After a childhood spent in Vancouver ice rinks, I'm excited to see such an expansive surface on which to glide randomly, rather than in crowded, endless circles. While Fancy leads us on more drills, I gaze at the skaters, envying their speed and grace. In contrast, we grunt and push along on the groomed path around the lake. Alas, unlike downhill skiing, only physical effort and technique—not gravity—will get us where we want to go.
Then all of a sudden, something clicks. My speed picks up and I'm off and swinging, taking in the sunshine, the skaters, the snow, the wind on my cheeks.
And then, in an instant, I lose my balance, teeter on one ski—and splat magnificently onto the path.
Oh well. Getting up, I brush the white stuff off, reposition my skis, and push off after another thrill. If I didn't know any better, I'd say this feels a lot like play.
Access: Silver Star Mountain Resort lies near Vernon, about five hours east of Vancouver or less than an hour from the Kelowna airport. Nordic boot camps for women run February 11 to 12 and March 10 to 11 and include coaching (classic, skate, or both), lunches, massage, and more. For info, see the Silver Star website. The writer travelled as a guest of Tourism B.C. and Silver Star. For Okanagan travel and ski information, see the Hello BC website.
Follow Carolyn Ali on Twitter at twitter.com/carolynali