Salt Spring Pride Festival grows from a history of healing
The Salt Spring Pride Festival, celebrating its eighth year, is a grassroots success story. But there's a poignant history particular to its rural setting that sets it apart it from Pride festivities in urban centres like Vancouver.
The festival (which runs this year from September 7 to 9) has become the second largest tourism draw for the island and the third largest Pride festival in British Columbia. However, Pride committee and Gays and Lesbians of Salt Spring Island board member Deirdre Rowland explained that the creation of a Pride parade threatened to divide the community along generational and experiential lines.
"When we decided Pride was gonna happen, we had a lot of support initially and it was when we decided for the first time to really be out and have the parade five years ago, that's when we…had a little bit of pushback from some of the elders in our community," the former Pride chair said on the line with the Georgia Straight. "There was a lot of fear for a lot of people who had been hiding under rocks, and who weren't truly out in the community, that somehow they'd be found out. And a lot of elders have grown up with a lot of homophobia, of course, and in some cases, severe abuse. And so they move to Salt Spring, they're leading their lives very quietly, and suddenly there's this group of people who really want to organize and really want to move into being out, having a parade."
Rowland explained that in response to concerns, organizers shifted gears and came up with an innovative solution.
"So what we did is we decided, 'Look, here's what we're going to do. We're going to invite our allies to come out and be part of the parade.' Very different. That means that families, that means that community groups, that means that other organizations…they're in the parade, and they're there to support and celebrate and really be part of the whole festival."
And thus, the show did go on, unifying the community, and even proving to be cathartic for some.
"It has been really healing for some elders, some elders even in their 70s and 80s who finally walked in their first parade—you could see them because they had tears in their eyes," she said. "And they've come and they've said, 'This has been the biggest most beautiful thing I've experienced as a gay person in my life.' And it's just been so overwhelmingly moving."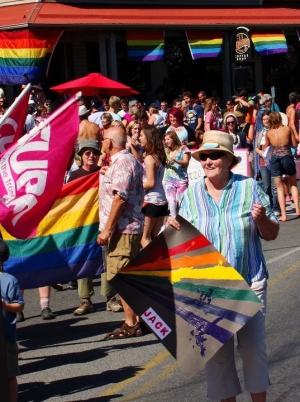 Scott Merrick photo
The fifth annual Pride parade will take place on September 8 in the Salt Spring Island community of Ganges.
Rowland pointed out that the Vancouver Dyke March was somewhat of a template for Salt Spring's people-powered parade.
"The original parade chair, Juli Macdonnell, she was involved in the Dyke March…and so the flavour of the Dyke March has kind of made its way into the parade on Salt Spring, that idea about being connected and being about people, rather than floats...."
The parade will include three grand marshals: two original GLOSSI board members, Liz Forrest and Andrew Cameron, and longtime community member John Ashlie.
It'll be followed by a new addition to the festival: Out on the Street, a pedestrian-only street party that will feature dancers, burlesque performers, entertainers, and speakers. (And, of course, more music than you can shake your booty at.)
Scott Merrick photo
But before all the levity, the festival, which runs from September 7 to 9, kicks off with some gravity.
"Between a Rock and a Queer Space: Being LGBTQ on Salt Spring" is a panel discussion that will address issues affecting the rural queer community. The five-person panel will include University of Victoria master's candidate Florian Schmidt, who is researching being gay in a rural environment; somatic sex educator Caffyn J. Kelley; and social educator and AIDS Vancouver Island coordinator Robert Birch.
"Some of the topics that might come up: What makes a community safe, nurturing, and engenders a sense of belonging?" Rowland said. "And we really want to look at are we living our differences, because in a lot of ways, we're very safe on the island, and are we assimilating too much? What are the ways in which we're not celebrating how we're different? And so we're going to talk about that."
But there's plenty of fun and frivolity to be had, including Ze Cabaret and Dance on September 8, which boasts Vancouver entertainer Isolde N. Barron as the headline act. Rowland said they're asking people to come dressed "daring" to the event, which she expects will sell out.
"The straight people know they have to be queer that night. And there's no getting away with it," she said. "But they're thrilled because it gives them a chance to be sensual and be, in some ways, out in that way."
The weekend concludes on September 9 with a Unitarian Pride service and a family-friendly Pride picnic at Ruckle Provincial Park.
For full details and further information about the festival, visit the GLOSSI website. For tourism information, including accommodations and travel details, visit the Salt Spring Tourism website.
You can follow Craig Takeuchi on Twitter at twitter.com/cinecraig. You can also follow the Georgia Straight's LGBT coverage on Twitter at twitter.com/StraightLGBT.