On the tourist trail in Cinque Terre and Venice—and off it in Bologna, Italy
When it finally dawned on me that there were no Italians waiting for the train, I knew we had a problem. This was Italy, after all, so you'd expect that there would be at least a few locals milling about the platform in La Spezia. But in addition to my husband and me, the only people there were a large group of American students, a British couple, and two German backpackers. Where was everybody else?
I checked my ticket again and matched it to the platform sign overhead. Yes, we were in the right place. After spending a week exploring the Italian Riviera and the hillside towns that dot the Ligurian Sea, we were eager to leave Cinque Terre. But our train to Parma was 25 minutes late, and the sign hadn't been updated with a delay. And where were all the Italians?
Venturing to the ticket office to investigate, we found an ominous crowd corralled loosely into a snaking line. We quickly learned that there was a train strike—apparently, not an uncommon event in Italy—and everybody was trying to rebook their tickets.
Working around a train strike was perhaps the only quintessentially Italian experience we had in Cinque Terre, an area so overrun with tourists when I visited last June that we didn't relish a delayed departure. To be fair, the five hillside villages that make up the Cinque Terre are utterly gorgeous. They were every bit as dreamlike as the postcard images that drew us there, with pastel-coloured houses clinging to the cliffs and olive groves tumbling down to the turquoise Ligurian Sea. With wafting scents of sage and trees heavy with lemons, the hiking trails that strung the towns together would have made for perfect walks—if it hadn't been for the crowds.
(It's important to note that in the year since I visited, the situation has drastically changed. Two of the five towns, Vernazza and Monterosso al Mare, were devasted by flooding in the fall of 2011. But According to Rick Steves, the three other towns--Riomaggiore, Manarola, and Corniglia--were unaffected, and the hardest hit towns are back on their feet.With Cinque Terre in need and tourism down by about 60 percent, according to the Walks of Italy blog, this may be the summer to visit.)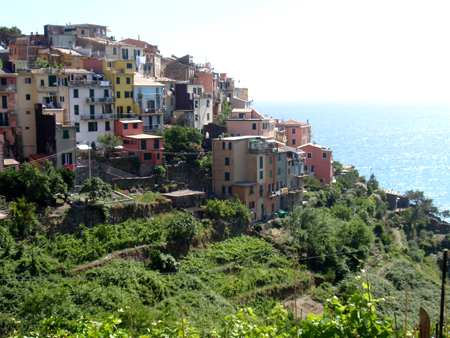 Corniglia, one of the five towns that make up Cinque Terre. Carolyn Ali photo.
But when I showed up just before the height of summer 2011, Cinque Terre felt like a theme park, with packs of tourists blasting through the towns in groups following a leader. Visitors fought for spots on the infrequent minibuses running up the hill to Corniglia, the town where we stayed, and cut in line to buy soft drinks. I watched one woman walk into a pizzeria and—in English, without so much as a "Buongiorno"—demand a slice of ham and pineapple to go.
Several friends who had travelled and lived in Italy had tried to warn us about the tourists. "Why don't you go to Bologna instead?" they asked, promising that the Emilia-Romagna city, about three hours east by train via Parma, was delightful yet blissfully under the tourist radar. But images of Cinque Terre's picturesque hills had been implanted in my brain, and I wanted to see them firsthand. Besides, I reasoned, just because a destination is crowded with tourists, does that mean one should avoid it?
Yet Cinque Terre's prime attraction—its tranquil beauty—was marred by the crowds. We much preferred our days in Camogli, a frayed-at-the-edges town up the coast, 20 kilometres east of Genoa, where we went specifically because we had never heard of it, hoping other tourists hadn't either. With a gently curving seaside promenade, colourful trompe l'oeil painted buildings, and a ramshackle castle, it made a perfect base from which to explore glamorous Portofino.
But even Camogli was no tourist secret: the peaceful town swelled with visitors on the weekend, when Italian families sprawled on tightly packed rented sun beds and splashed on the rocky beach. Yet these tourists knew how to enjoy their vacation rather than racing through it—nobody was in a hurry to get anywhere, and the town slumbered during the hot siesta hours.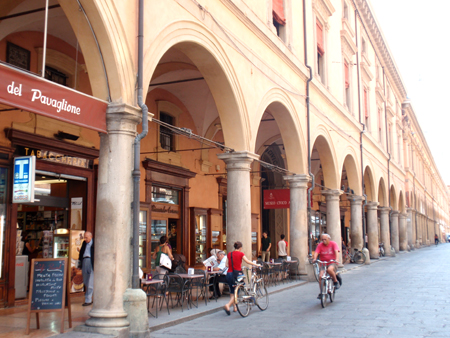 Bologna's elegant porticos make the streets a joy to explore. Carolyn Ali photo.
Eventually, we did get away from the touristy coast. After several hours of confusion at the La Spezia station, the train strike ended as mysteriously as it had begun, and we caught the next scheduled train to Parma and on to Bologna. (Too late, we learned that Italian train strikes are often announced in advance, so we might have avoided the whole scramble.)
Bologna was everything our friends had promised and more: a beautiful red-brick, medieval city with the youthful energy of a university town. We fell in love with it instantly, and remained amazed that it's not more popular with tourists. Wandering the sidewalks under the elegant porticos was a joy, as was exploring the impressive food shops, where rows of rosy Parma hams hung over heavy wheels of Parmigiano Reggiano. We spent a happy morning at a cooking school rolling out dough for tagliatelle and hand-twisting teensy tortellini. It's hard to say what was more interesting: learning the traditional, age-old pasta-making techniques or listening to our instructor sighing over Italy's political woes. Three days later, we reluctantly headed northeast to Venice to catch our flight home.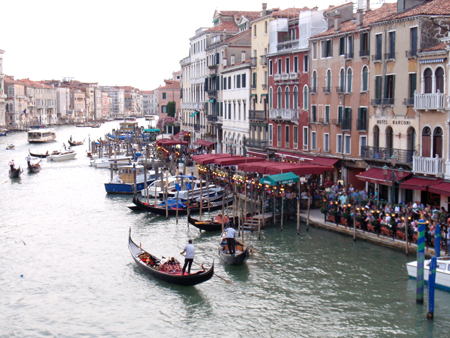 The Grand Canal in Venice is magical despite all the tourists. Carolyn Ali photo.
Nobody goes to Venice to avoid tourists. A blockbuster on the European grand tour, the city receives about 60,000 visitors each day, about equal to the local population. Indeed, we found people like us everywhere—clogging the streets near Piazza San Marco and crowding into shops that hawked questionably authentic Venetian glass trinkets.
Yet Venice still retains the magical quality that attracts tourists in the first place. There's simply nowhere else like it in the world. Motoring down the Grand Canal in a public vaporetto (water bus), it was standing-room only between camera-toting passengers. But that didn't diminish the romance of watching gondoliers steer their boats past impossibly regal palaces. Seeing Venice for the first time is like seeing a movie star in person: you know it so well from pictures that when the beauty is right there in front of you, it's almost surreal. On the iconic Rialto Bridge, where we lined the rails for photos with other star-struck tourists, strangers offered to take each other's pictures, exchanging cameras and grins of delight.
Even in touristy Venice, we found pockets of local life. In the quieter Castello area, we wandered narrow pedestrian alleys where laundry swayed overhead on lines tied between apartment buildings. In this dense residential district, we were tickled to discover windows shrouded in slatted blinds—venetian blinds in Venice! And we were even more excited to find a community festival taking place in a canal-side park.
Slices of community life can be found even in touristy Venice. Carolyn Ali photo.
The lineup for the food tent, where a flurry of volunteers grilled sausages and polenta and deep-fried squid and anchovies, was a good half-hour long. No matter—as we waited our turn, we hunched over our phrase book, translating the posted menu so we could order in Italian. Then a benevolent volunteer worked his way down the line, happily pouring everyone free cups of red wine from a jug. File this under "Things that will never happen in Vancouver".
With our plates heaped high with seafood, we sprawled on the grass just as a costumed ABBA tribute band took the stage in a puff of dry ice. Later, as we rose to our feet to sing along to "Dancing Queen" in English, I wondered if there were many tourists in the crowd. It didn't really matter. Some experiences are universal.
ACCESS: For English-language train-travel planning in Italy, see raileurope.ca/ and trenitalia.com/. The blog Ron in Rome! may be helpful for beginners navigating the Italian train system, and includes advice on how to avoid strikes.
Follow Carolyn Ali on Twitter at twitter.com/carolynali