Your busy schedule shouldn't be why you aren't trading in cryptocurrency. With the best apps for crypto price alerts, you don't need to glue yourself to your screen analyzing price charts daily.
Have you ever wondered how most crypto investors can consistently time the market and still win in case of price fluctuations? Well, it's not a secret anymore; they use price-alert apps. The apps can track ongoing price changes helping investors stay on top of the market.
Why Would You Need a Crypto Price Alert App?
Using a cryptocurrency price alert app is crucial if you want to monitor your assets and save time effortlessly. These apps provide the alert tools you need to track potential losses to gain in your cryptocurrency assets. Besides, the price alert apps send notifications to you when the price of a specific cryptocurrency gets to a certain level or in case of a notable change in the financial market, allowing you to make informed decisions about buying or selling.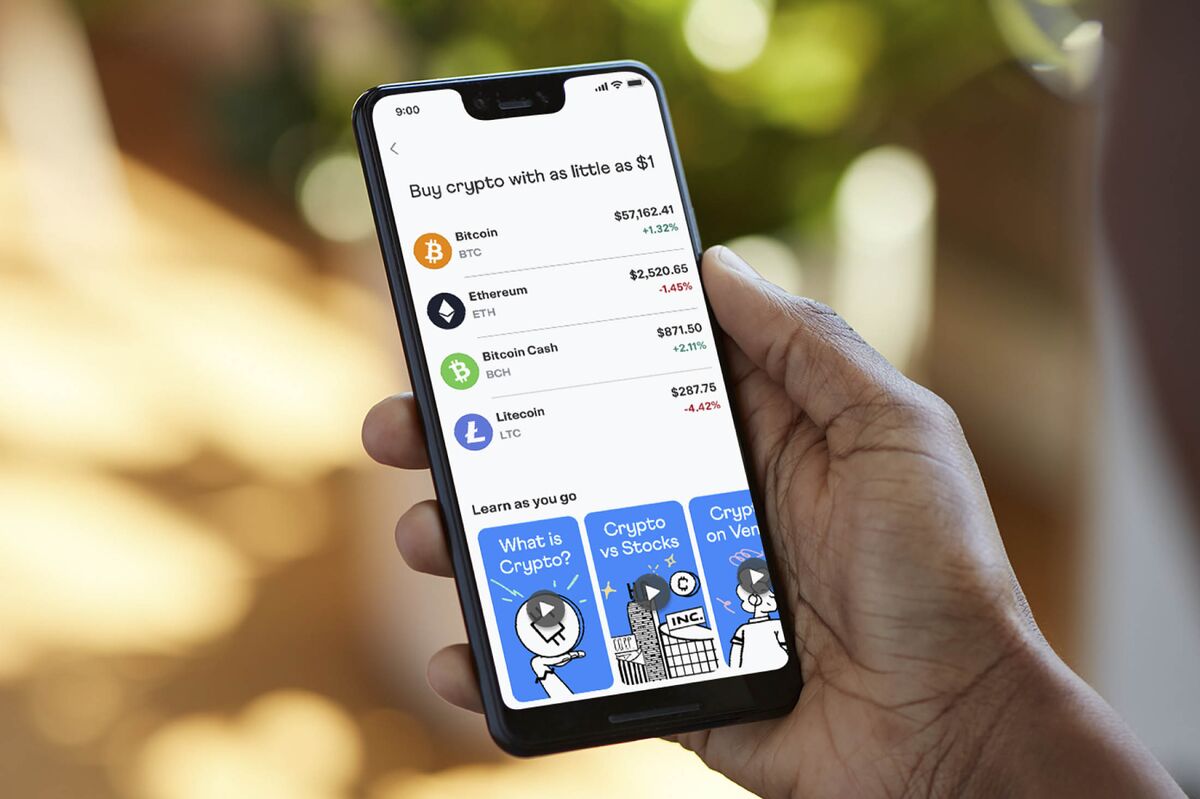 Having an application that allows you to keep track of your assets will be worth your time. Another good thing about a crypto price alert app is that you can set alerts for multiple cryptos making it easy to monitor prices across different platforms. If such an app could be useful, check out our list of the best apps for crypto price alerts for web browser, Android, and IOS devices.
1. ZuluTrade
ZuluTrade is a multi-broker, social, and copy-trading platform. It allows you to invest by copy trading with top and selected traders in forex, commodities, indices, stocks, and cryptocurrency. Besides, a classic account allows you access to a calendar, which helps you keep track of all significant events in the financial markets across the world.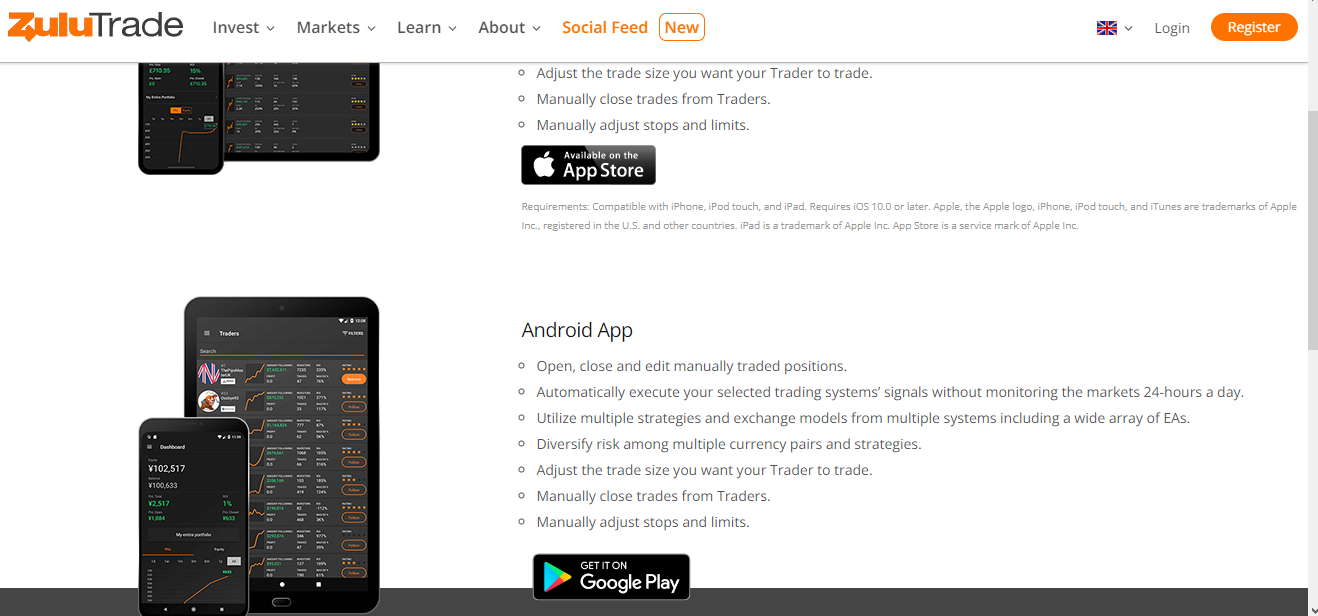 Conversely, ZuluScript allows you to create scripts that serve as parameters for trading bots; it provides trade automation, allowing you to take significantly more trades than you could manually. Furthermore, there is no need to be concerned about your account balance since the Margin Call-o-Meter usually calculates the possibility of your account running out of money. To reduce risk and save time, you'll get email notifications or have Automator perform actions automatically when events occur.
Additionally, ZuluTrade features a one-of-a-kind feature that protects Copy Traders from erratic trades opened by traders they follow. Also, thanks to the Portfolio Stimulator, which allows you to automatically track and copy over 100,000 strategies and systems without monitoring the market 24/7.
ZuluTrade allows auto trading of the most popular market crypto, including Bitcoin, Ethereum, Litecoin, and Ripple. The application is compatible with Android and iOS devices. Also, the features are the same when using the web app.
Pros
Features an easy-to-use interface
Compatible with Android and iOS devices
Offers a complete overview of the crypto market
Offers hundreds of cryptocurrency price alerts
Cons
The free version app has a lot of ads.
2. TradingView
TradingView is a platform for forex, futures, and cryptocurrency traders and investors. The app usually provides live quotes, stock web-based price charts, and professional trading ideas. Furthermore, the platform features easy-to-use charts with a modern, sleek, and functional interface with several features in one charting package.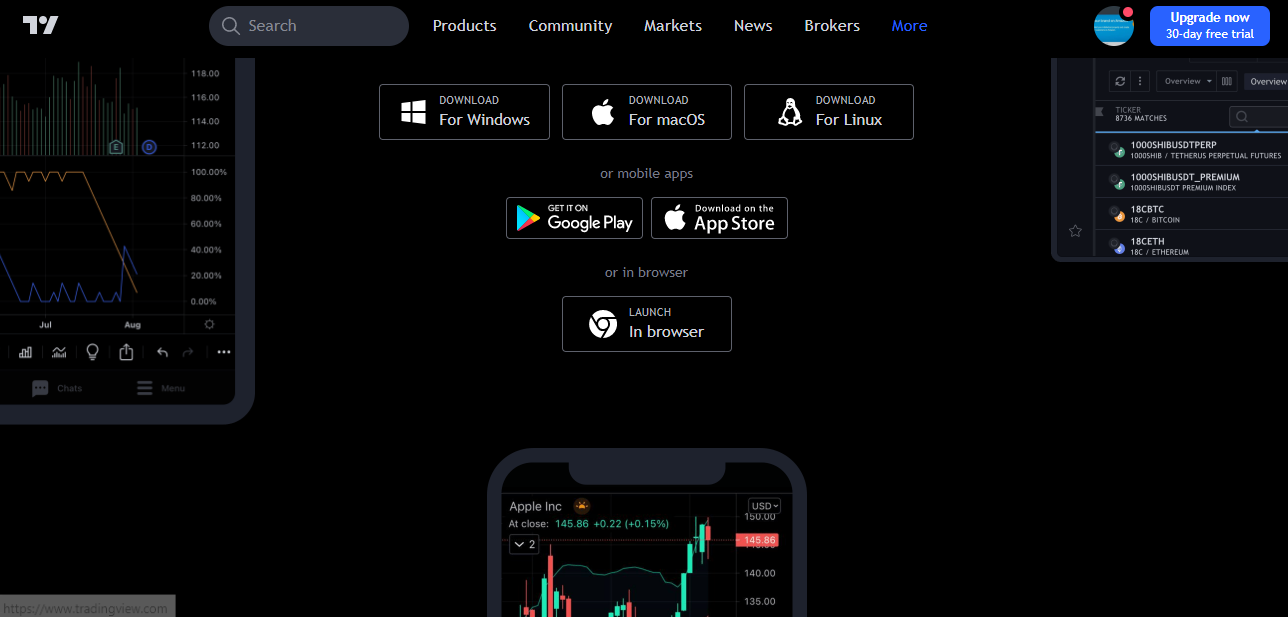 On this platform, the crypto market usually has a separate table where you get the best overviews for prices and traded volumes for up to 200 cryptocurrency assets and the ability to integrate the data with multiple technical indicators. Moreover, you get access to the world of finance 24/7.
While using the mobile app, you conveniently get email notifications, visual pop-ups, audio signals, PUSH alerts, and webhooks. Besides, twelve alert conditions can be applied to strategies, indicators, or drawing tools.
The application is compatible with Android and iOS devices. Besides, the platform comes in four plans; the free plan (which offers most features you would get from the paid plans but with fewer indicators and at a slower data flow), the Pro plan, the Pro+ plan, and the Premium plan. As you advance through the membership, you gain access to more charts, special features, and faster workflow.
Pros
Features an easy-to-use interface
Compatible with Android and iOS devices
It offers in-depth market analysis and research
It allows the testing of trading strategies with simulated trading
Cons
The app doesn't offer automated trading.
3. Investing.com
Investing.com provides traders and investors with a wide range of tools. It usually collects data on over 300,000 financial products from various exchanges, including crypto exchanges worldwide. Therefore, you can conveniently use this app to acquire insights on cryptocurrencies, stocks, bonds, commodities, funds, and ETFs.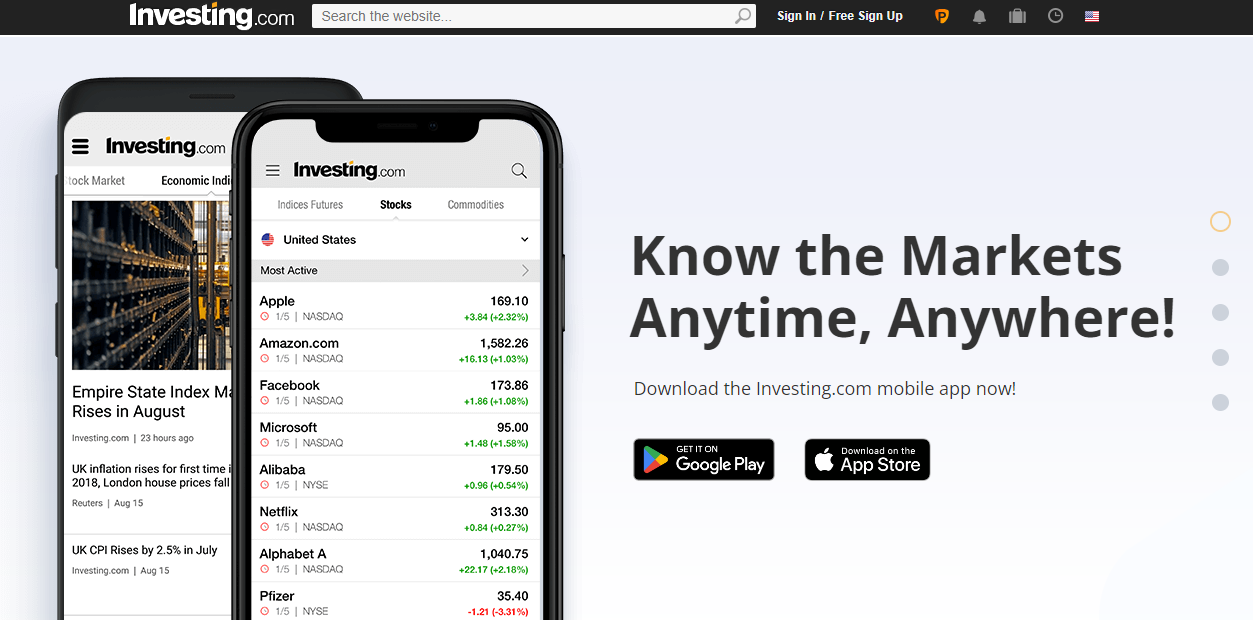 Additionally, the platform provides essential insights on digital currencies, including market analysis, price alerts, news, indicators, and much more. You can also create customized alerts and be notified of preferred economic events. Besides, you can follow specific authors on the platform and get alerts when they post new content.
This price alert app is compatible with Android and iOS devices. You can also access it through standard web browsers. Aside from alerts, you can use Investing.com to track new cryptocurrency launches and acquire financial insights. And the good thing is all of these features are free.
Pros
Compatible with Android and iOS devices
Features an easy-to-use interface
Offers real-time news, allowing you to stay informed of market development
It is available in multiple languages, making it accessible to users around the world
Cons
The Pro plan requires higher fees than some other online brokers
4. eToro – Investing Made Social
eToro is an online broker that accepts a wide range of assets, including cryptocurrency. The platform offers a variety of digital assets and allows users to create alerts for their preferred crypto assets. When the price of the preferred crypto hits a certain range, the app will alert you. Besides, you can get notifications when the price of the digital token rises or falls by a predetermined proportion. This allows you to take the necessary action without monitoring the market.
Additionally, eToro provides trading alerts, updates, and insights daily, mostly through email, letting you know how the market is performing. Besides, the eToro price alert app includes different price charts, technical indicators, and multiple order types to help you understand your trading strategy.
On the other hand, the eToro platform provides a crypto wallet which allows you to wire payment directly and safely store your digital tokens within site. Plus, It's compatible with Android and iOS devices.
Pros
Compatible with Android and iOS devices
Allows you to follow and copy the trades of other successful traders
Offers a wide range of crypto assets to choose from
It comes with an easy-to-use interface
Cons
Sometimes the platform glitches.
5. CoinMarketCap
CoinMarketCap is among the most popular website for tracking cryptocurrency prices. It features an ICO calendar, allowing investors and traders to spot the next cryptocurrency to explode in the market. Besides, the platform will enable investors and traders to create a watchlist of digital currencies they want to track.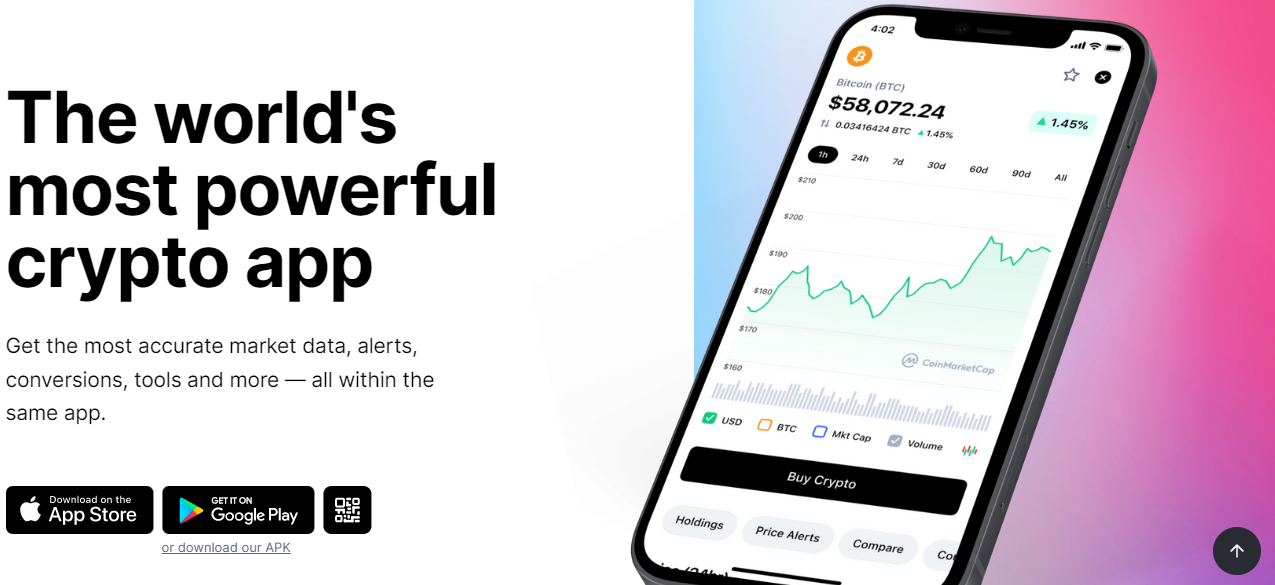 Furthermore, the platform will provide alerts for price movement or other market data about the token. It also lets you get push notifications regarding market updates directly on your smartphone. Most importantly, CoinMarketCap is entirely free to use.
Pros
Completely free to use
Compatible with Android and iOS devices
Features an easy-to-use interface
Offers comprehensive listing alerts
Cons
Offers a limited crypto selection
6. Cryptocurrency Alerting
Cryptocurrency Alerting focuses on the Bitcoin and cryptocurrency markets. It keeps track of exchange listings, wallet transactions, and other on-chain metrics. One of the good things about this platform is that you create customized alerts that are actively monitored 24/7. Also, when a new crypto is listed on an exchange, you will be alerted in multiple alert options, including SMS, Email, Discord, Telegram, Slack bots, and many more.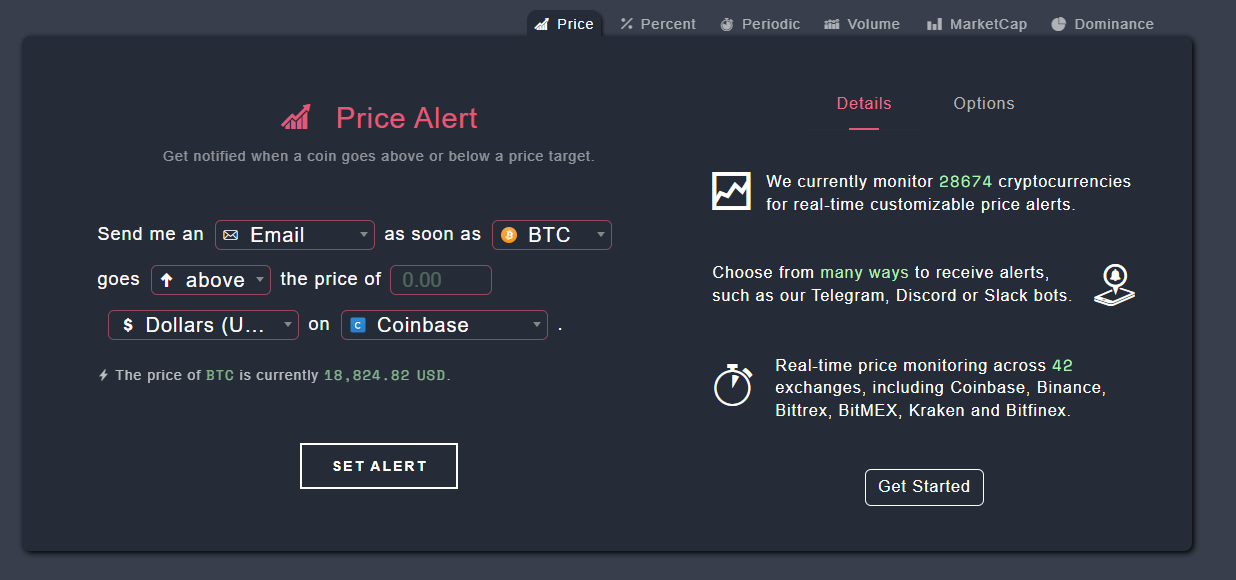 Furthermore, you can create as many alerts as possible on the membership plan. For instance, the Hobby plan usually allows up to three active alerts at any time, the Trader plan allows up to 20, and the Pro plan allows up to 120.
To stay on the market, you will get crypto alerts for price, wallet, and coin listing through a flexible alert platform. Besides, you will get real-time customizable alerts for automatic and secured crypto investments.
Pros
It offers a customizable alert system
Compatible with Android and iOS devices
It allows users to set up automated alerts easily
Users' data is safe and secure.
Cons
Requires higher membership fees
Factors to Consider When Looking for the Best Apps for Crypto Price Alerts
1. The Variety of Cryptocurrencies
How many individual cryptos can you set price alerts for? So, when looking for the best app, ensure it supports the cryptocurrencies you are interested in tracking.
2. Notifications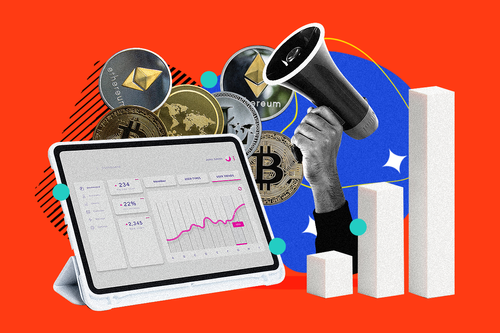 The app should provide real-time notifications about the crypto prices and any changes that occur in the market. This will help you make better decisions about your investments. Also, the app should allow you to set custom alerts for specific price levels or percentage changes.
3. User Interface
We recommend considering the apps' user interface when looking for the best apps for crypto price alerts. The app should be user-friendly and have all the necessary features to monitor crypto prices. The interface should also be intuitive, easy to use, and stay up-to-date on the latest prices.
4. Price Accuracy
It is important to consider the accuracy of the price alert apps. Ensure the cryptocurrency price alert app provides real-time price updates and informs you of current market conditions.
5. Integration with Other Tools
Some price alert apps can allow you to integrate them with other tools, such as trading platforms, so you can execute trades directly from the app or use the platform to accept Bitcoin payments.
6. Security
When looking for the best apps for crypto price alerts, pay attention to the security features. Ensure the app uses secure encryption technology to protect your data and also have measures in place to protect against hackers.
7. Portfolio Tracking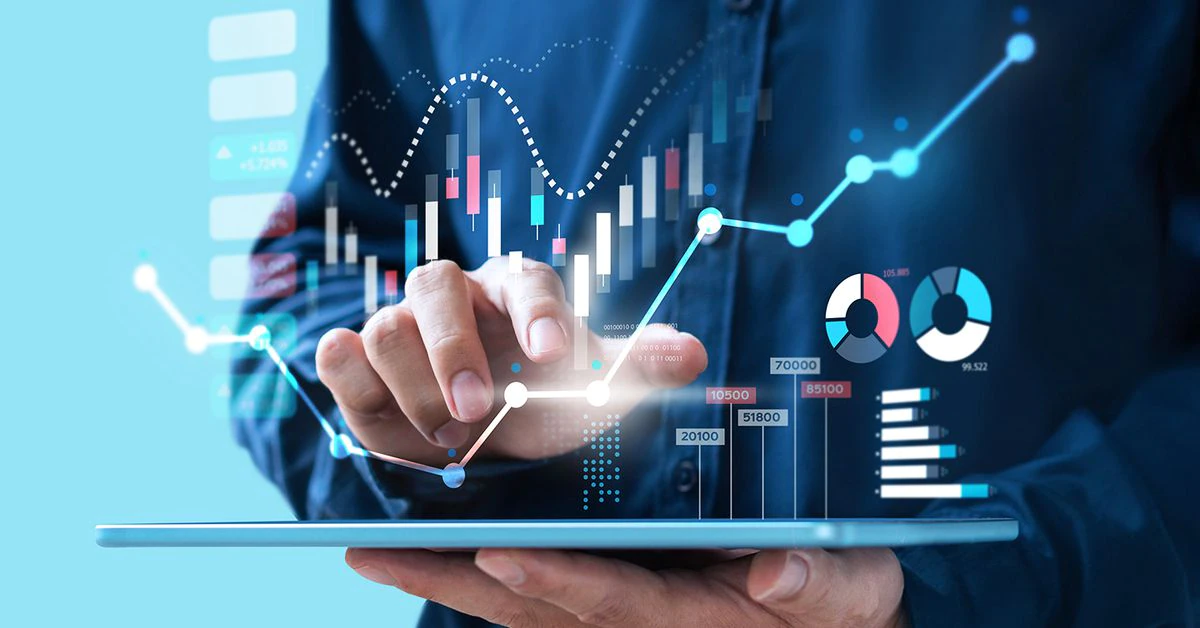 The price alert app should have a clear price history to track over time. It should allow you to view your overall gains or losses.
8. Delivery
Consider how the price alert app delivers crypto alerts, i.e. by text, push notifications or email. Also, pay attention to the total number of active alerts the app allows to run simultaneously.
9. Compatibility
You don't want to invest in an app that isn't compatible with your device. The good thing is that you can get a price alert app that works on iOS, Android, or both.
10. Pricing
Is the application free to use, or do you need to pay for it? If you have to pay for it, ensure the pricing is reasonable and that the app delivers good value for money.
Frequently Asked Questions on the Best Apps for Crypto Price Alerts
1. How Can I Get for Cryptocurrency Price Alerts?
You can get crypto price alerts from TradView, eToro, Cryptocurrency Alerting, CoinMarketCap, Investing.com, and ZuluTrade. Most of these platforms offer free alerts, while for others, you have to subscribe to enjoy the best features.
2. Can I Get Cryptocurrency Price Alerts?
Yes, most apps provide free cryptocurrency price alerts. Besides, some platforms also offer free trade signals to traders.
3. How Do Crypto Price Alert Apps Work?
Crypto price alert apps typically allow you to set up alerts based on specific cryptocurrency prices. When the price of a cryptocurrency reaches the set alert price, the user will receive a notification. This notification can be sent to the user's email, mobile device, or even on browser notification.
4. What Features Do Crypto Price Alert Apps Have?
Crypto price alert apps typically have features such as portfolio tracking, charting tools, news updates, and support for multiple currencies. Besides, some apps allow users to set alerts based on various criteria, such as percentage gained/lost, market cap, and volume.
5. What Are the Benefits of Using a Cryptocurrency Price Alert App?
The main benefit of using a crypto price alert app is that it helps you stay informed about the crypto market's latest updates and price movements. You can make informed decisions about when to buy, sell, or transfer crypto assets by receiving alerts. Additionally, these apps often provide charting tools, market news, and other data that you can use to make better decisions.